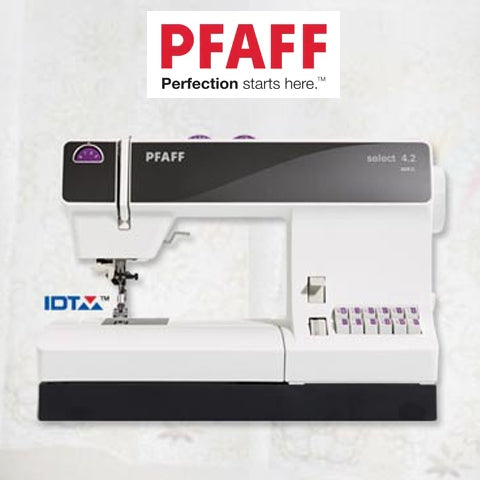 Pfaff Select ™ 4.2
                           Please call for Price $$$. $$
                         or email us   mhvacsew@aol.com
The select™ 4.2 model offers all the convenience of modern technology, plus, a few extras that will make your sewing even more fun and creative. Explore the possibilities!
The Original IDT™ System
Integrated Dual Feed only from PFAFF® for over 45 years! Absolutely even fabric feed from both the top and the bottom.
Easy select™ System
Quickly choose a stitch with the press of a button. You can even combine them for more variety.
Integrated Needle Threader
Makes threading the needle fast and easy.
Constant Needle Piercing Power
Gives stitch-by-stitch control and full piercing power at any speed.
LED Lights
Optimized bright lights illuminate the entire work area with no shadows.
ADJUSTABLE NEEDLE POSITIONS
For exact placement of your straight stitch.
BOBBIN WINDING
No need to unthread your PFAFF® select™ sewing machine, you can wind bobbins directly from the needle. Winding stops automatically when your bobbin is full.
 
STITCH WIDTH
Variable stitch width. Great for decorative techniques like appliqué or tapering.
 
SWING AWAY ACCESSORY TRAY WITH INSERT
Keep all your accessories in order.
ACCESSORIES
PRESSER FEET
Standard Presser Foot with IDT™ system
Fancy Stitch Foot with IDT™ system
Clearview Foot
Blindhem/Overlock Foot with IDT™ system
Zipper Foot with IDT™ system
Buttonhole Foot
Darning Foot
Rolled Hem Foot, 3mm with IDT™ system
OTHER ACCESSORIES
Edge Guide/Quilting Guide
Felt pad
Spool caps, small/medium/large
Needles
Extra spool pin
Seam ripper
Brush
Bobbins
---
We Also Recommend