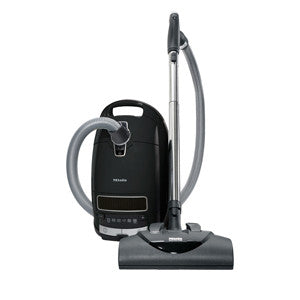 Miele Complete C3 Kona Canister HEPA Vacuum Cleaner - Obsidian Black
Replaces the S8390 Kona
The highest level of household relief for allergy and asthma sufferers

12-stage AirClean Sealed System with Active HEPA filter.

Most effective on rugs and thick pile carpets.

The secret to an allergen-free home

Highest level of vacuum-cleaner filtration available today

HEPA filtration removes 99.97% of all particles

Prevents asthma and allergy triggers from being returned back into the air

Critical for the management of allergy symptoms

Passed our rigorous testing

Genuine Accessories Included

Free Shipping

Low Price Guarantee

Safe and Secure Checkout

30 Day money Back Guarantee

3 Year Manufacturer Warranty

Certified Miele Dealer
The Miele C3 vacuums are loved for their ultra-quiet operation, unparalleled performance and lightweight yet extremely durable design.
Their patented AirClean filter bag plus Sealed System and Active HEPA filter reliably retain 99.9% of dirt, dust and lung damaging particles inside the vacuum; ideal for an allergy or asthma sufferer.
As the mid-range model of the Miele S8 vacuum series, the Miele Kona is an enticing and popular choice. It offers a great value with +/- multilevel suction controls on the canister, deluxe ergonomic handle with power brush controls and long electrical cord with one-touch automatic rewind.
The Miele Kona comes packaged with an Electro Plus power brush, Parquet Twister floor tool and 3 integrated accessory tools.
The Kona is a perfect solution for vacuuming a variety of floor surfaces from wall-to-wall carpet to hardwood floors and plush area rugs. The Miele Kona is the replacement for the Miele S5281 Callisto vacuum. 

Features of Miele S8 Kona Vacuum Cleaner
6 suction settings with +/- suction controls on canister
Deluxe handle grip with power brush controls
1200 watt, low-noise, high output Miele-made Vortex Motor System™
Integrated silence insulation plus an encapsulated motor
Lightweight skeleton construction
Air Clean Sealed System™ Design retains 99.9% of particles inside the vacuum
Active HEPA filter with Activated Charcoal layer captures 99.97% of all particles greater than 0.3 micron and absorbs odors
Large capacity, AirClean filter bag w/ spring-loaded, self-sealing collar - type G/N, 4.76 qt.
Parquet Twister floor brush (SBB 300-3) has 90° rotation - perfect for cleaning around obstacles such as table legs and in tight places
Electro Plus Power brush (SEB 228) has a 14-inch wide brush roll, swivel neck, self parking and 5 height adjustments - recommended for use on medium to high-pile or plush carpets
3 accessory tools: crevice nozzle, dusting brush, upholstery tool
Integrated tool storage compartment
Electric, telescopic, stainless steel wand
Bag change (airflow) indicator light
Long power cord with one-touch automatic rewind
Three smooth-running 360° swivel casters
Built-in carry handle
Impressive 33-foot operating radius
Safety shut-off on overheating
---
We Also Recommend