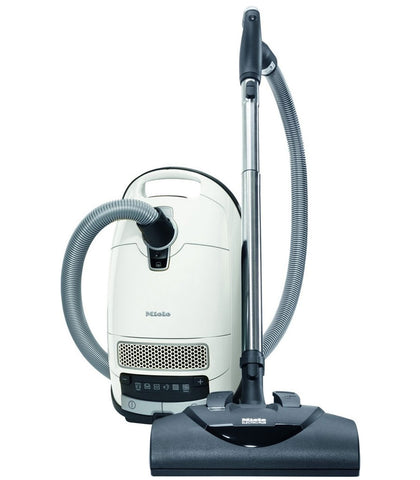 Miele Complete C3 Cat & Dog PowerLine - SGEE0 Canister HEPA Vacuum Cleaner - Lotus White
The highest level of household relief for allergy and asthma sufferers

12-stage AirClean Sealed System with Active HEPA filter.

Most effective on rugs and thick pile carpets.

The secret to an allergen-free home

Highest level of vacuum-cleaner filtration available today

HEPA filtration removes 99.97% of all particles

Prevents asthma and allergy triggers from being returned back into the air

Critical for the management of allergy symptoms

Passed our rigorous testing

Genuine Accessories Included

Free Shipping

Low Price Guarantee

Safe and Secure Checkout

30 Day money Back Guarantee

7 Year Manufacturer Warranty

Certified Miele Dealer
The Miele C3 Cat & Dog canister vacuum is perfect for removing odors and hair. In other words, it stands out through its ability to complete cleaning tasks other vacuum cleaners cannot quite handle. This is mainly due to its accessories which are specially designed for cleaning homes inhabited by pets. The filtration system is extremely efficient, preventing impurities of all kinds from escaping back into the air. They are all trapped in the G/N dust bag which can collect up to 4.76 quarts of dust and debris. The odors, on the other hand, are eliminated by the activated carbon the Active Air Clean system uses especially for this cleaning operation. So, these two systems work together to relieve one's home from the two main inconveniences of having pets.   
The tools that accompany the S8380 Cat & Dog canister vacuum are also designed to deliver exceptional results with cleaning after pets. For instance, the SBB 300-3 brush deals with the smooth floors, while the SEB 228 one deals with carpets of different densities and thicknesses. The latter is very popular among customers because it can be adjusted to the thickness of the carpet and its cleaning path is 14 inches wide. There is a brush roll control on the handle of this vacuum cleaner which allows the user to disengage the brush roll if they want to and do their cleaning relying solely on the suction power produced by the motor, which is a silent 1200-watt Vortex one.
This noise reduction is achieved by the encasement of the motor and special silence insulation. The S8380 Cat & Dog package also includes an STB 101 turbobrush suitable whose versatility is also higher than that of the SEB brush for cleaning upholstery and stairs. It also includes a crevice nozzle and a dusting brush.
In fact, the whole Miele S8380 Cat & Dog canister vacuum is very versatile. Its stainless steel telescopic wand can be adjusted and the power cord can be rewound depending on the cleaning needs or the areas that need cleaning. These adjustments can be made by simply hitting a button, the controls on this product being one of the features that contribute to its high market rankings. All in all, the cleaning radius of the Cat & Dog vacuum can reach up to 33 feet.
Covered by a warranty of seven years on the casing and motor and one of two years on the parts and labor, the Miele S8380 Cat & Dog canister vacuum is a very efficient and convenient appliance that eases the cleaning for pet owners who often have to struggle with the hairs and odors in their home. Furthermore, it is available for extremely reasonable prices. All these factors make any pet owner's decision to invest in this vacuum cleaner a sensible one.
Benefits for the Miele Cat & Dog S8380
A perfect synergy of design and functionality, Miele's S8 series sets new standards in floor care. These full-size canisters combine maximum features and efficiency with outstanding cleaning results. S8 embodies Miele's TrueClean™ philosophy, balancing powerful performance with innovative conveniences – resulting in a vacuum that truly cleans. And lasts.
Miele's signature craftsmanship is evident throughout S8's elegant styling and components. Superior engineering is balanced with carefully-selected, fine quality materials such as a durable stainless steel wand and specialized ABS plastic with a hard, impact-resistant surface that leaves the canister with a brilliant, durable finish. S8's plastic components are durable, yet safe for use in your home. Miele also ensures that these components are clearly marked for easy recycling after their usable life - protecting the environment for future generations.
Other conveniences include a 33-foot operating radius and foot pedal controls for quick and effective cleaning. S8 features a silence motor that maintains a quiet environment for your family, balancing 1,200-watt powerful cleaning performance. The S8 series also features Miele's AirClean Sealed System® that not only vacuums your floors – but also cleans the air your family breathes. 
---
We Also Recommend