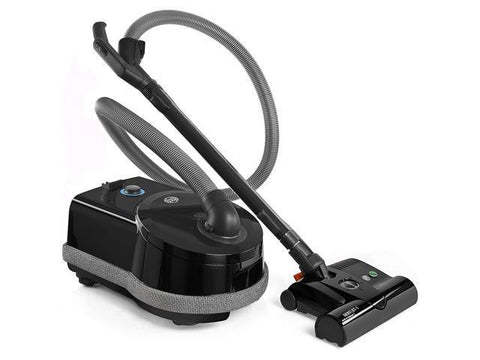 SEBO Airbelt D4 Premium Canister Vacuum Cleaner - Onyx

 Made in Germany, the AIRBELT D series is the best full-size, commercial-grade canister vacuum cleaner on the market today! There are three models, each with different cleaning head options. The D1 is a straight-suction (no electric power head) vacuum that includes the Kombi Nozzle, with retractable bristles, for use on hard floors and rugs. The black or white-colored AIRBELT D4 Premium includes the 12-inch-wide ET-1 Power Head. However, the red-colored AIRBELT D4 offers a choice between the ET-1 or the 15-inch-wide ET-2 Power Head. Both D4 models include a parquet brush for cleaning hard floors. The D1's suction adjustment switch is located on the canister body, but on the D4 models, it's located on the hose handle.

All three AIRBELT D models are powerful, ultra-quiet and will provide years of reliable use! They feature a full bag or clog indicator, a huge 1.5-gallon bag, three on-board attachments, an unmatched 40-foot cord and 52-foot cleaning radius, rubber-coated wheels to protect floor surfaces, a durable telescopic tube with quick-release connections, and a five-year parts and labor warranty. A one-of-a-kind LED indicator actually enables the user to optically monitor the level of suction power, and the soft AIRBELT bumper that surrounds the canister housing protects the vacuum, furniture and walls from incurring scuffs and scratches during use. The brilliantly designed tapered suction hose increases airflow, and its 320° rotating canister connection ensures smooth user and machine maneuverability. Because of ergonomically designed handles, users enjoy effortless control of cleaning heads that have 180° steering abilities and super low 3.5-inch horizontal cleaning profiles, which easily fit under beds and furniture.

The AIRBELT D4 models' ET-1 and ET-2 power heads effectively clean carpets and hard-floor surfaces and have excellent pet hair removal. They also offer manual brush roller shut off, so delicate flooring can be cleaned with straight suction. They have four-level manual height adjustment, and the extension side of their L-shaped contours makes cleaning under counters easy. They feature tool-free brush roller removal for replacement or bristle cleaning, and a warning light illuminates when brush height is set too high for optimal cleaning, the bristles are worn, or automatic shut off occurs due to a brush roller obstruction, which protects the belts, motor and carpets from damage.
STANDARD FEATURES
Designed and manufactured in Germany
The World's Best Pet Vacuums
Excellent for Users With Allergies or Asthma
Tightly Sealed Hospital-grade Filtration
Reliable, Commercial-grade Components
Rubber Wheels and Bumpers Protect Homes
High-tech Brush Roller Technology
Changing Bags is Easy and Clean
Save Money! SEBO Vacuums Last for Years
Free Warranty Coverage (Valid only thru an Authorized Reseller)
Seven Years Motor - Five Years Non-Wear Parts - Five Years Labor. 
Click here for a copy of the warranty
---
We Also Recommend