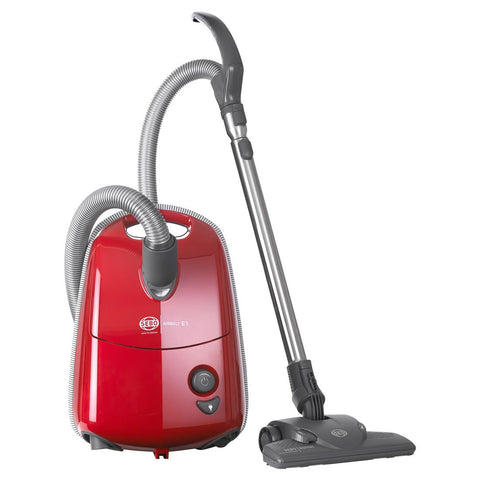 SEBO E3 Premium Series Airbelt Red Canister Vacuum Cleaner
Behold the latest in German vacuum innovation.  The SEBO Airbelt E3 Canister Vacuum is capable of cleaning any type of flooring set before it, from hardwood floors to shag carpeting.  The ET-1 Powerhead will power through carpeting from top to bottom, providing you with the detailed cleaning you and your carpets deserve.

The E3 uses a wider hose than their competitors located directly above the bag chamber to provide more airflow and reduce clogging.  The three caster wheels on the bottom allow for a gentle glide across any surface to give you a worry-free cleaning experience.  Gone are the days of the canister tipping over or being generally unmanageable.  The ABS plastic housing provides a strong, durable exterior that can handle any tough beating you're likely to put it through.  Located on the back of this powerful canister are the crevice and upholstery tools, while the dusting tool is located on the telescopic wand.  Along with the large-capacity E Series bags, this canister also uses a hospital-grade filter to remove 99.97% of microns from the air, filling your home with the cleanest air possible.

The main feature on the SEBO Airbelt E3 is the ET-1 powerhead.  This powerhead has four height levels, allowing you to clean any type of carpeting you can imagine.  It also has a simple mechanism on the side to pull out the brushroll for easy cleaning.  Worried about picking up a sock or shoelace and breaking the belt like with your old vacuum?  Never fear!  This ET-1 has an automatic shutoff that turns off the brushroll whenever there is an obstruction, giving you time to remove whatever is stuck and getting you back on track with your cleaning.
What's in the Box:
    One pre-installed SEBO Airbelt E Ultra Bags
    One pre-installed exhaust filter
    One pre-installed motor filter
    Electric canister hose
    AIRBELT E1 canister
    ET-1 Powerhead
    Parquet Brush
Seven Years Motor - Five Years Non-Wear Parts - Five Years Labor. Click here for a copy of the warranty.
---
We Also Recommend